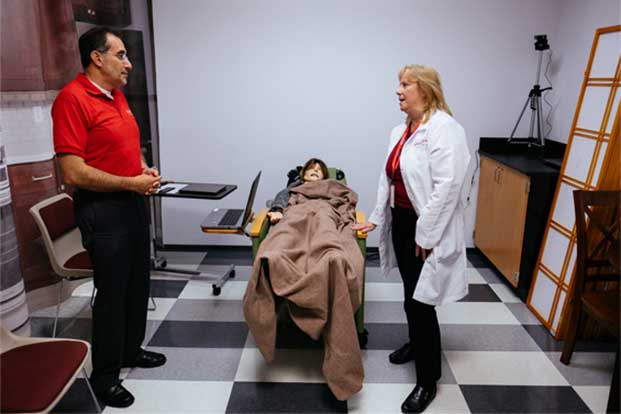 Photo courtesy of Uniersity of Houston.
Julia simulates a patient who is short of breath (her backstory is that she has advanced-stage lung cancer) and is in pain. The nurses learn how to control her breathing with oxygen and her anxiety with medication; this is referred to as a cluster of symptoms – or two or more medical conditions which occur at the same time. They are taught how to speak to someone in the last stages of life, and how to discuss their actions with a patient's family, too.
Cheryl Brohard, R.N., Ph.D., has been thanked by her students who have taken part in this research study to learn more about how nurses react to death in the workplace. In this safe place, nurses can sit by the bedside of someone experiencing end-of-life symptoms before they are thrown into a real-life scenario with all the emotions that go along with a death.
COVID threw the research off track a bit, and even though the UH College of Nursing students worked through the spring of 2020, mostly hospitals were not letting in students. Cancelling the Houston Livestock Show and Rodeo and extending spring break by a week were ways Houston curbed the spread of the virus. When they were let in to help, the UH nursing students did not miss the opportunity to administer the vaccine, work with oxygen and pulse oximeters. They became comfortable taking care of those in the hospital.
"The faculty went into the problem-solving mode and creatively found new ways of teaching palliative care over Zoom," stated Brohard.
In the 1980's, hospices hardly existed at all. One may think that most people die while in hospice. "Only a few do, in fact," said Brohard. "Seventy-five percent of patients still die in the hospital." With such an overwhelming and intense situation for new nurses, the first year is critical to their career longevity.
Near the end of the simulation, actors who play Julia's "husband" and "son" quietly prompt the new nurses, "I don't think she's breathing anymore." Julia passes on but the lessons she has taught are invaluable with every new cohort of nurses.