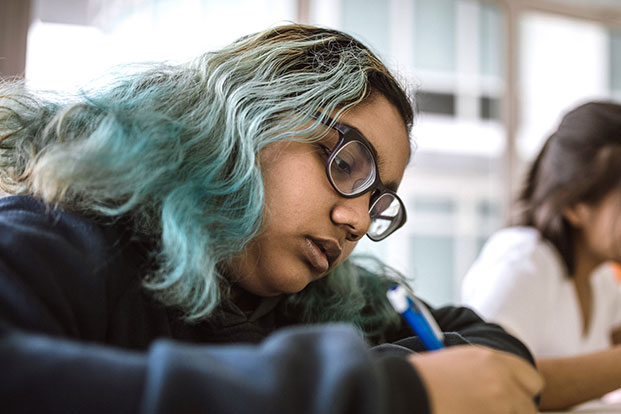 Pekic/E+/Getty Images
Assistant Professor Virginia Rangel in the College of Education and assistant professors Charles Lea and Juan Barthelemy in the Graduate College of Social Work are collaborating with a Houston-based non-profit organization called Houston reVision to study whether reVision's programming can help disrupt the school-to-prison pipeline and keep youth in school and in their communities.
"Instead of looking for ways we can change youth, we want to start by enacting change in a broken, inherently racist, system," said Lea.
reVision provides youth at-risk of becoming involved in the juvenile justice system and youth on probation with a safe space, mentoring, tutoring and restorative supports. reVision works with youth enmeshed at every point of the school-to-prison pipeline. The organization helps teens in trouble at school, in juvenile detention and on probation, as well as 'certified' youth in adult prison. Youth continue to find themselves "suspended, removed to alternative schools, and arrested and expelled," by their zoned schools, according to reVision.
When a student is expelled, they are more likely to become and remain involved in the juvenile justice system. Multiple misdemeanors or felonies make it difficult for these youth to get jobs and impossible to access public assistance.
Diversion programs currently offer allows youth the ability to be reintroduced into their own community without being sentenced by a judge.
"Is the goal of a program to control or help kids?" asked Barthelemy. "The question becomes: 'Would I rather be home than be confined' or 'Would I rather deal with confinement than the conditions of probation?'"
According to Barthelemy, in his experience, "many youth struggle to meet the conditions of probation, which may include curfews, mandatory school attendance, random drug tests in some instances – even when a drug charge was not an original part of the arrest – and the understanding they are not to interact with known felons. The latter can be a difficult proposition for a child whose parent or guardian might have had past trouble with the law."
What used to be primarily a school-based mentorship program for youth on probation, then, has changed due to COVID-19 and the risk of spread within correctional facilities. As a result, the Harris County Juvenile Probation Department decided to furlough young people or release them back to their communities, referring them to reVision for support. reVision provides a safe space for the youth, with social workers, mentors and even a soccer team that has helped their players gain college scholarships.
Today, reVision helps deliver basic goods such as food and PPE to youth and their families while providing mentoring, tutoring and restorative support to youth via Zoom. But, only time will tell if this hybrid diversion model will make an impact on the Houston population of youth involved or at-risk of involvement with the juvenile justice system.