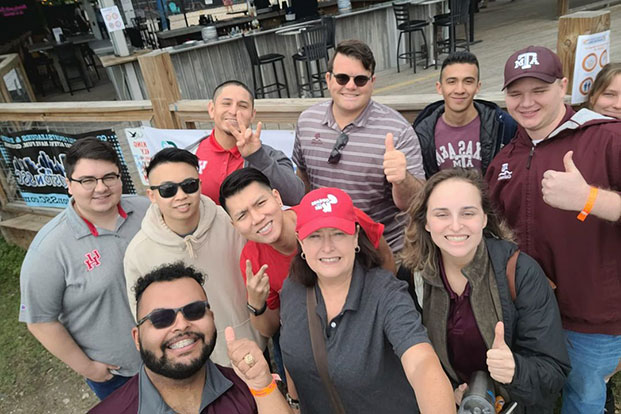 Photo courtesy of University of Houston
Supply Chain & Logistics (SC & L) Technology has been a hot issue recently.
"We should've been talking about agility, resiliency and sustainability versus lean production before this past year occurred," said Margaret Kidd, director of the SC & L Technology degree program at University of Houston. "Unfortunately, that oversight came back to bite us."
What we went through during the first months of COVID was a mild inconvenience, according to Kidd. It could've been much worse – we might have been without food instead of just toilet paper and bleach.
Kidd has received generous support from Port Houston Community Grants to aid in her research regarding workforce development and environment in Houston.
"University of Houston's Supply Chain & Logistic Technology Program plays an integral part in preparing the next generation of workers. Having identified gaps in skillsets and providing an educational platform to address those gaps, this project provides meaningful influence," said Kidd. "The program is built with sustainability in mind, so that as Port Houston operations expand, so too does our educational outreach to targeted populations."
The Gulf Coast and the seaboard coasts are the busiest, most well-established industry hubs in the nation now. Port Houston accounts for 3.2 million jobs, $802 billion annual national economic value, $35 billion in generated tax revenue and supports nearly 200 industrial facilities.
But the SC & L workforce is aging. "Part of my research is focused on youth in underserved populations of color and is supported by U.S. Census Bureau data," said Kidd.
Her challenge? To solve both these problems through workforce development. Kidd and the University of Houston felt that providing certifications in SC & L (credentialed by the Chartered Institute Logistics and Transport) while students are still in high school or community college would help to fill the gap in workforce that Houston was experiencing.
For instance, Stephen F. Austin High School has a magnet program called, Maritime Transportation Logistics. Since many students enrolled at Austin High School and area community colleges do not attend universities, Kidd said a UH certificate program will "give these students a chance at obtaining the American dream."
When one rises to a management position within SC & L there definitely is the need to have a college degree – or advanced degree. Classes held at the University of Houston are heterogenous – many young students are looking to obtain a lucrative career and older middle-management types are looking for a degree to move up the corporate ladder. The young people have an energy that invigorates the older students; the seasoned managers help keep everyone on task and show the younger ones what their futures may hold if they stay in the business and work hard.
This project was kicked off with a press conference with Harris County Precinct 2 Commissioner Adrian Garcia, applauding the program for its forward-thinking mission and holistic model. Whether Houston high schoolers or community college students go into the realm of hospital supplies and equipment, oil and gas, steel or even wind energy, a SC & L certificate will open doors and employ many adults in an ever-growing sector of trade.